Thank you for sharing our heart to restore and empower families.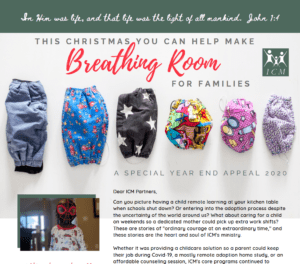 Click the image above if you would like to read our Christmas newsletter. We hope you'll enjoy some stories of ordinary courage at this extraordinary time. 
Thank you for making a difference for families this Christmas! If you would like to give a gift of stock or other assets, please visit our planned giving page or email our partnership director at .

We'd love to share stories of how your support changes lives for families and children throughout the year. Here are a few ways you can stay in touch:
Like ICM on Facebook.
Sign up for our monthly ICM Connection email prayer letter.
Learn about becoming an ICM Empowering Partner.
Or schedule a web call with our partnership director and we can go in depth about ICM's ministry to families and children!
ICM is the East Central Illinois implementer for the Safe Families Network. Visit our Family Care Page to learn how you can get involved. If you are not familiar with the Safe Families movement, we invite you to enjoy this brief overview of Safe Families and how it has grown.
3 Henson Place, Suite 1
Champaign, IL 61820
Office Hours
Mon-Fri 9am-5pm
phone 1.217.355.4446
fax 1.217.355.1650